What We Do
We host educational workshops to teach students skills in emerging technology. We also hire these students as interns to continue to teach them skills and give them professional experience. 
Game Changer
"Providing access to the hardware is what has enabled us to explain what the software is, what you can do with it and the career path that comes with it" -Martha Mendizabal, cofounder of TecnoLatinx
Read More
TLX XR PROJECTS
Robots + Art
Robots + Art launched at Mendez HS in 2022
Maria Salcedo, DSW Candidate (USC)
Maria is working with TecnoLatinx XR Lab to build Cafecito VR, a virtual environment where students can meet and share resources, network and gain insights from peers and mentors across the globe! It starts by building your own custom avatar. 
Read more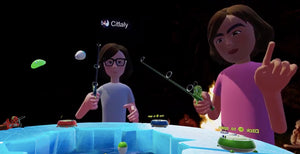 HAAT High School, East LA
Students from HAAT HS in East Los Angeles are working with TecnoLatinx XR Lab to create a VR project for their school that allows both social VR interaction and for use as a platform to share school information, events and resources. 
Read more
What our members say
In making a VR story I learned how to use the VR system by making a story and making it real. I enjoyed playing around with the different resources in VR to make a visual story. I liked using the different brushes and items in the VR too!

Andrea Popoca, Middle School Student
I would of never have thought I would get the chance to do this, and because of this, every time I come in this lab I do my best to use different brush strokes within Tilt Brush, or expand my knowledge through another VR Art program offered at TecnoLatinx XR Lab to see how else I can expand within this new digital world. 

Abraham Aragundi, VR Artist-in-Training
Thank you guys so much for the VR creator workshop! You definitely got a lot of us inspired to learn and do more in VR. Can't wait to learn more and grow my skills!

Mayra Ruiz-Valtierra, DigitalNest Mentor